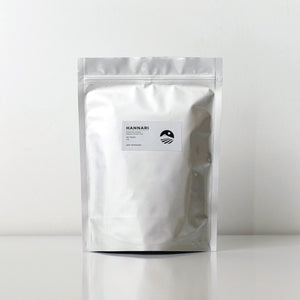 HANNARI Matcha | 1kg Premium Grade (NEW)
From Uji, Kyoto
Regular price $202.00 $195.00 Sale
HANNARI is the latest introduction to our range. A delightful first-harvest Premium Matcha designed to be the perfect middle ground between our Culinary and Ceremonial grades. (see more 1kg options here)
Please consider our retail collections for a wider range of grades and small-sized packaging:
After years of ongoing selective tasting, we finally came across HANNARI, a Uji Matcha that we introduced to close the gap between our Premium Culinary Grade KOHIKI and our Ceremonial Grade HANAE, both in terms of quality and cost.
HANNARI makes outstanding Matcha latte and desserts, but it can also be whisked into a bowl of Usucha by those who don't mind some astringency in their tea. Perfect for Cold Brew Matcha too.
Produced with first harvest spring leaves and gently stone milled.
Flavour profile: Well rounded, full-bodied Matcha with sweet nutty notes and light astringency
Origin: Uji, Kyoto (Japan)
Shelf life: 12 months
Storage: Seal pouch immediately after use and store in a cool dry place, away from moisture and strong odors. 
If you're purchasing this bag for your home or for business use, we recommend opting for one of our Biophotonic Glass Jars for optimal storage and practical everyday use. Transferring small amounts of powder into a jar minimizes its exposure to oxygen and increases the shelf life of the tea.

See our full range of Bulk & Wholesale Matcha Powder, Hojicha Powder and Genmaicha in a value 1kg bag.
Related Collections: