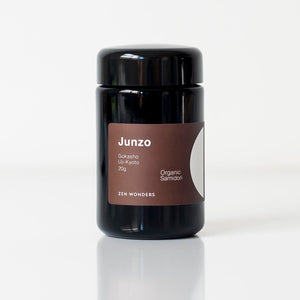 JUNZO | Gokasho Organic Samidori Matcha
20g jar
Regular price $33.00 $33.00 Sale
Pinnacle grade Organic Matcha is finally here.
After years of searching for an organic Matcha that would attempt to rival the unique flavours of top-grade conventional Uji Matcha, we are proud to introduce JUNZO to our Pinnacle grade collection, a 100% Samidori cultivar Matcha crafted by our beloved award-winning producer from Gokasho, Uji, Kyoto.
After several years of patiently preparing the soil of a portion of their farm in order to be granted the JAS organic certification, our producer has completed their second harvest of Organic Matcha this year, along with their usual crop of conventional Matcha (our KAIYŌ and AORASHI blends).
JUNZO is made from tea trees that have been shade-grown for ~40 days, using a thick black cloth that blocks out most of the sunlight (Kanreisha).
Fully hand-picked and gently stone-milled into a soft silky powder, suitable for both Usucha and Koicha.
Just like our other Gokasho blends, JUNZO has a prominent savoury profile given by the unique terroir and growing style of this producer.
Expect a rich, creamy Matcha with prominent oceanic notes and an outstanding Umami for Organic Matcha (Umami flavour is usually quite challenging to achieve in Organic Matcha due to limited use of fertilizers).
Flavour profile: Rich and savoury with a strong Umami.
Harvest & Growth: 1st

 

harvest

 

(spring 2023) / shade-grown for 40 days / hand-picked and stone-milled
Origin

: G

rown and processed in Gokasho, Uji, Kyoto.
Storage: Seal package immediately after use and store in a cool dry place, away from sunlight, moisture, and strong odours.
Related Collections:
Usucha (traditional Matcha tea)

Sift 2g of Matcha into a bowl

Wet with 20ml of 80°C water and knead into a paste using a Bamboo Whisk

Add more water (50ml) and briskly whisk back and forth until a fine layer of froth forms on the top.

Drink immediately.
Koicha (thick Matcha tea): 

Sift 4g of Matcha into a bowl
Add 30-40ml of 80°C water and knead into a paste using a Bamboo Whisk
Adjust consistency to taste and consume as is, without whisking into a frothy brew.
Upon sipping, roll the liquor around the palate to allow a full appreciation of its subtle and complex notes.
Coldbrew Iced Matcha

Sift 2g of Matcha into a shaker filled with 250ml of water

Add sweetness (optional) and shake well.

Place a few ice cubes into a glass and pour your Matcha over ice.

Enjoy your Coldbrew Iced Matcha.